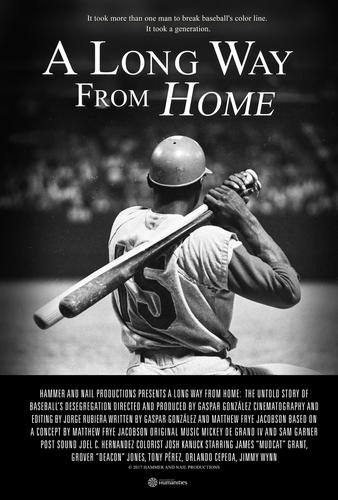 NEW YORK (June 6, 2019) – 
A Long Way from Home: The Untold Story of Baseball's Desegregation
 produced by award-winning media company Hammer and Nail Productions has been awarded a GOLD Telly Award in the category of General Documentary. The Telly Awards competition, now in its 40th year, honors excellence in video and television across all screens and is judged by leaders from video platforms, television, streaming networks, production companies and outlets including Vice, Vimeo, Hearst Digital Media, BuzzFeed and A&E Networks.
"This award is a tribute to the talent and vision of its creators and a celebration of the diversity of work being made today for all screens," said Sabrina Dridje, Managing Director of the Telly Awards.
Directed by Gaspar González from a concept by writer and historian Matthew Frye Jacobson (Yale University), A Long Way from Home chronicles the struggles and triumphs of the pioneering black and Latino players who followed Jackie Robinson into white professional baseball, often playing their minor-league ball in small, remote towns where racial segregation remained a fact of life well into the 1960s. The film premiered on cable network TV One in 2018.
The 45-minute documentary, funded by a grant from the National Endowment for the Humanities (NEH), sheds light on the decades long struggle toward racial equality for America's favorite pastime, featuring original, revealing interviews with James "Mudcat" Grant, Grover "Deacon" Jones, Jimmy Wynn, J.R. Richard, Tony Pérez and Orlando Cepeda.
"Jackie Robinson is justly celebrated for breaking baseball's color line," says González. "However, what often gets overlooked is the prolonged struggle of Black and Latino players to tear down the structural barriers that relegated them to second-class status, even after desegregation. We felt strongly that that story needed to be told as well."
Prior to airing on TV One, A Long Way from Home enjoyed theatrical screenings in Houston, Miami, and Washington, D.C., as well as the Negro Leagues Baseball Museum and the National Baseball Hall of Fame.
Distributed by Giant Pictures, a digital distributor based in New York and Los Angeles, 
A Long Way from Home
 is now available on 
iTunes
 and 
Amazon
.
ABOUT THE TELLY AWARDS
The Telly Awards is the premier award honoring video and television across all screens. Established in 1979, The Telly Awards receives over 12,000 entries from all 50 states and 5 continents. Entrants are judged by The Telly Awards Judging Council — an industry body of over 200 leading experts including advertising agencies, production companies, and major television networks. Partners of The Telly Awards include IFP, NAB, StudioDaily, Stash Magazine, StudioDaily, Storyhunter, ProductionHub, The Wrap Pro, the VR/AR Association and Digiday.