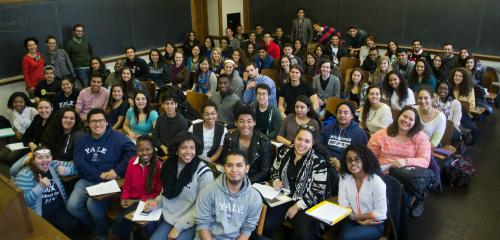 The announcement last week of a new Center for the Study of Race, Indigeneity and Transnational Migration has brought greater attention to problems with racial and ethnic studies at Yale, while also shedding light on possible paths for improvement.
In light of conversations about awareness and sensitivity to racial issues on campus, the strength of Yale's Ethnicity, Race and Migration Program has recently come into the spotlight. And while the center is in part a response to student demands for more funding for ethnic studies, it also may not address Yale's long-standing problems with hiring and retaining diverse faculty, especially as it is not currently slated to change the institutional status of the ER&M program, which does not have the power to independently recruit faculty. Funding for the center will not directly go to ER&M, although the center's activities will likely influence the program.
Still, administrators involved in planning the center — which will house ER&M — said it is a milestone for the University and could signal a shift in academic priorities, as Yale's ethnic studies resources increasingly trail those at peer institutions.
"I don't think [the center] is just going to be a shifting around of things that already exist," said Timothy Dwight Master and American Studies professor Mary Lui, who sits on the center's implementation committee. "They have committed to a budget, which means the allocation of resources."
Starting in fall 2016, the center will be housed at 35 Broadway, the current site of the ER&M program's offices and the Yale College Writing Center. The Writing Center will relocate to the Center for Teaching and Learning in Sterling Memorial Library by December. The RITM center will likely have at least one staff member, said Ezra Stiles Master and former ER&M Director Stephen Pitti, who will serve as the center's inaugural director and chair of the implementation committee.
The center's approximately $600,000 budget will fund postdoctoral research, sponsor summer research fellowships and organize speaker series and other public events. ER&M and other programs have not yet held faculty meetings about their future relationship to the RITM center, Pitti said.
Administrators have announced, however, that the ER&M program will be housed within the center, although the center's scope will reach beyond the program, and the program will retain its own budgetary resources. While the RITM center's budget will not directly support ER&M, much of the center's resources — including programming, visiting scholars and postdoctoral fellows — will impact the intellectual life of the program, ER&M Chair and African American Studies professor Matthew Jacobson said.
Interest in ER&M has spiked recently, and enrollment in the program's courses was up this semester. Jacobson said current campus events involving race, immigration and nationality have caused the increased interest in ER&M, and the new center will allow Yale to accommodate that increase.
"All indications are that the [ER&M] major will grow significantly between this year and next," Jacobson said.
But he also noted that ER&M's institutional status as a program rather than a full department may stay the same for some time, meaning that the program will continue to lack faculty hiring and retention power. Affiliated faculty members must be based in a full department, such as African American Studies or American Studies.
"The broader question of faculty hiring, promotion and retention is the subject of tremendous energy across campus, including ad hoc faculty and student activity, and newly composed reform efforts associated with the [Faculty of Arts and Sciences Dean's Office] and the Faculty Senate alike," Jacobson said, noting that the University has made significant faculty hiring commitments in ER&M-related fields. "I am cautiously optimistic."
Lui said the center's structure might resemble that of the Whitney Humanities Center, which currently provides an "intellectual home" for humanities programs at Yale. The new RITM center will serve the same purpose for research into race, ethnicity and identity, she said.
Faculty involved with Yale's center will not be required to teach a course in ER&M, although Lui said that professors in departments directly related to the center's field of study will likely be interested in collaborating on projects and working with postdoctoral students at the center.
Lui emphasized that the center will greatly expand ER&M, rather than simply "putting it in a prettier package." For example, she said, the center will hopefully enhance the study of currently under-researched topics like indigeneity.
Current research into issues of inequality, displacement and dispossession focus mostly on North America, and Lui said the new center may be more global — but also more grounded in New Haven's immigrant population — than current indigeneity studies at Yale.
Still, some racial studies programs are already miles ahead at other U.S. colleges and universities. Stanford, Brown and the University of Chicago all have thriving centers for race, Lui said.
"We feel very behind some peer institutions," Lui said.
Every racial or ethnic studies center caters to different types of work. The Yale center may be more research-focused, while the ethnic studies center at Columbia is aimed largely at undergraduate teaching, said Gary Okihiro, the founding director of Columbia's Center for the Study of Race and Ethnicity.
The ability to hire and retain faculty has been a source of struggle and growth in similar centers at peer institutions.
Columbia's center was established in 1999 and has over 50 affiliated faculty members. Still, it does not have the ability to fully hire faculty members. In a December interview with the News, Columbia history professor Karl Jacoby GRD '97 said the center does not have autonomy over faculty hiring and granting tenure. Instead, Columbia's center has to partner with departments to jointly hire faculty members, which he said is challenging for young faculty members seeking tenure.
Lui said models at other universities will be helpful as Yale plans its own center.
"We can learn from other people's mistakes," she said.
In the 2014–15 academic year, around 28 percent of the total University student body was nonwhite.