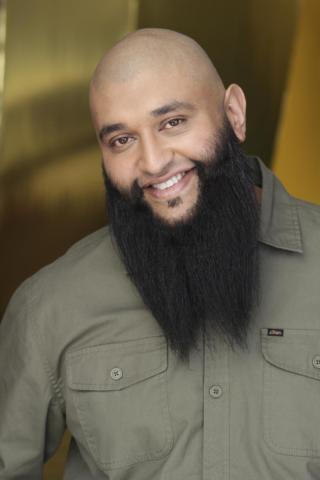 Donald Trump doesn't like Azhar Usman. Or, more specifically, Rand Paul and the Republicans don't like the fact that the U.S. Department of State once paid Azhar to tour India as a cultural ambassador. Despite being born and raised in the United States––and playing the role of cultural diplomat as an American artist––Usman has been called "suspicious," "dangerous," and "Un-American." He was visited at his home by the FBI last year. 
Muhammad Ali. Albert Einstein. Malcolm X. Noam Chomsky. Lucille Ball. (Yes, from "I Love Lucy"). What do these legendary Americans all have in common? They were all–at one time or another–denounced as "Un-American" by the proverbial powers that be. And yet, over time, they all became celebrated cultural icons and champions of truth, justice, and freedom. In short, they define what it means to be ULTRA-AMERICAN.
"ULTRA-AMERICAN: A Patriot Act" is Usman's newest creative project. The Chicago-based standup comedian's one-man show is an exploration of the tensions and paradoxes surrounding national, cultural, and religious identity in an ever-polarizing world. The show is certainly funny, but also packs a serious intellectual firepower. It is NOT INTENDED for audiences who are easily offended, nor those uninterested in having their beliefs and biases questioned.
CNN called Usman "America's Funniest Muslim," and Georgetown University identified him as "one of the 500 Most Influential Muslims in the World." In 2010, standup icon Dave Chappelle–for whom Usman has opened over 50 times–commented "Azhar Usman is untouchable." As the co-founder of the international comedy showcase "Allah Made Me Funny," he has toured over 20 countries on five continents. His comedy has been profiled/reviewed by over 100 major world media outlets including The New York Times, The Economist, BBC, The Guardian, NPR, TIME Magazine, Al-Jazeera, USA Today, and Fox News. Most recently, he served as creative consultant on Hannibal Buress' new Netflix comedy special, "Comedy Camisado," and also appeared in Robert Smigel and Conan O'Brien's "Triumph's Election Special 2016" for Hulu. 
Tuesday, March 8, 2016 - 8:00pm
Linsly-Chittenden Hall, 102
63 High Street
New Haven
,
CT
06511
Sponsored by: American Studies; Asian American Cultural Center; Ethnicity, Race, and Migration; Institute of Sacred Music, and Public Humanities.