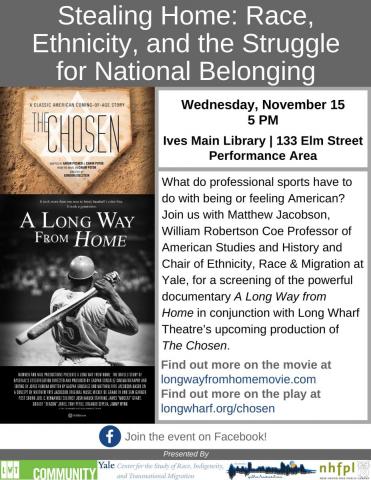 What do professional sports have to do with being or feeling American? Join us and Matthew Jacobson, William Robertson Coe Professor of American Studies and History and Chair of Ethnicity, Race & Migration at Yale, for a screening of the powerful documentary A LONG WAY FROM HOME in conjunction with Long Wharf Theatre's upcoming production of THE CHOSEN.
Find out more on the movie here
Find out more on the play here
Presented by Long Wharf Theatre, the Yale Center for the Study of Race, Indigeneity, and Transnational Migration (RITM), and the New Haven Free Public Library.
Wednesday, November 15, 2017 - 5:00pm
New Haven Free Public Library, Performance area
133 Elm Street
New Haven
,
CT