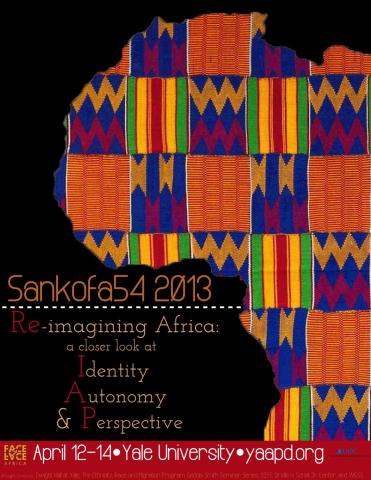 The Yale Undergraduate Association for African Peace and Development cordially invites you to the second annual Sankofa54: African Youth Empowerment Conference.
The theme for this year's conference is Re-imagining Africa: a closer look at Autonomy, Identity and Perspective.
We will ask what it means to be African or part of its diaspora, and how the re-imagination of Africa from an authentic, autonomous, and intellectual perspective can inform efforts to address issues of hunger, political and military unrest, and economic underdevelopment.
Recognizing that solidarity and communal efforts of students on the continent and abroad is a necessary step for the future success of development and peace, Sankofa54 offers students the opportunity to partake in a holistic approach to learning about conflict resolution, peace, and development efforts within Africa and to acquire the necessary tools, network, and mentorship to effect change.
The conference will include five discussion panels concerning economic development, global health, and peace and conflict resolution, as well as a series of breakout sessions regarding education, the status of women, and art and activism in Africa. Attendees will also have the chance to connect with important African businesses and NGOs at our networking fair.
Read morehttp://www.yaapd.org/sankofa54-2013/
Friday, April 12, 2013 - 9:00am

to

Sunday, April 14, 2013 - 5:00pm