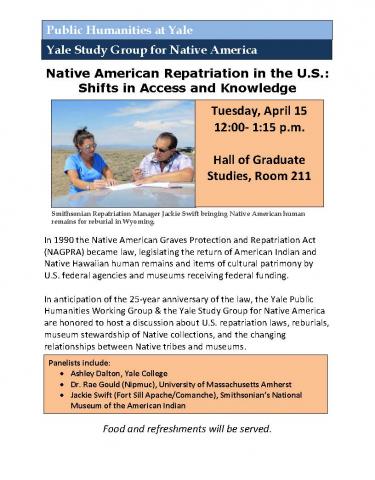 In 1990 the Native American Graves Protection and Repatriation Act (NAGPRA) became law, legislating the return of American Indian and Native Hawaiian human remains and items of cultural patrimony by U.S. federal agencies and museums receiving federal funding.
In anticipation of the 25-year anniversary of the law, the Yale Public Humanities Working Group & the Yale Study Group for Native America are honored to host a discussion about U.S. repatriation laws, reburials, museum stewardship of Native collections, and the changing relationships between Native tribes and museums.
Panelists include:
Ashley Dalton, Yale College
Dr. Rae Gould (Nipmuc), University of Massachusetts Amherst
Jackie Swift (Fort Sill Apache/Comanche), Smithsonian's National Museum of the American Indian
Food and refreshments will be served.
Tuesday, April 15, 2014 - 12:00pm
Hall of Graduate Studies #211
320 York Street
New Haven
06511