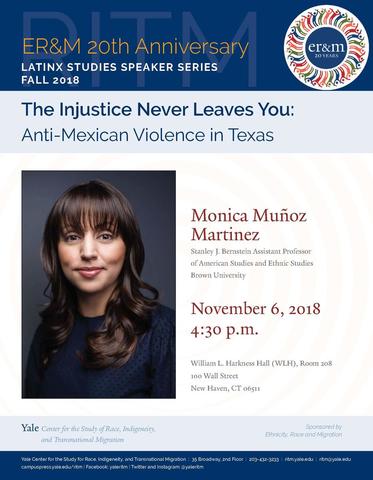 Monica Muñoz Martinez '06 is the Stanley J. Bernstein Assistant Professor of American Studies and Ethnic Studies at Brown University and an Andrew Carnegie Fellow. She is cofounder of the nonprofit organization Refusing to Forget, which calls for a public reckoning with racial violence in Texas. Martinez helped develop an award-winning exhibit on racial terror in the early twentieth century for the Bullock Texas State History Museum and worked to secure four state historical markers along the U.S.–Mexico border. She is also the primary investigator for Mapping Violence, a digital research project that documents histories of racial violence in Texas.
Event Abstract:
Monica's book, The Injustice Never Leaves You: Anti-Mexican Violence in Texas, delves into the killing of Mexican residents committed between 1910 and 1920 by vigilantes and law enforcement―including the renowned Texas Rangers. Mexican residents were killed with impunity. The full extent of the violence was known only to the relatives of the victims. Monica turns to the keepers of this history to tell this riveting and disturbing untold story.
This event is part of the Ethnicity, Race, and Migration 20th anniversary, Latinx Speaker Series.
Tuesday, November 6, 2018 -

4:30pm

to

5:30pm
William L. Harkness Hall (WLH), 208
100 Wall Street
New Haven
,
CT
06511