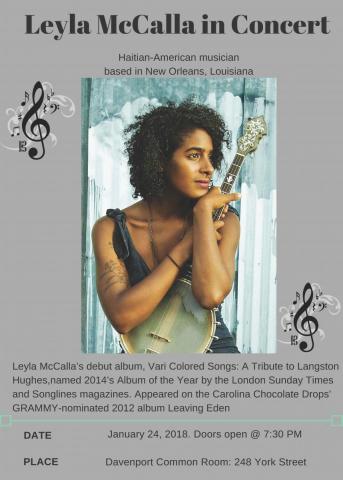 The Yale French North American Studies working group and the Yale Program in Ethnicity, Race, and Migration are pleased to welcome Leyla McCalla, a Haitian-American musician based in New Orleans, Louisiana, for a series of events including a free concert this Wednesday the 24!
Leyla McCalla finds inspiration from a variety of sources, whether it is her Haitian heritage, living in New Orleans, or dancing at Cajun Mardi Gras. Both of McCalla's parents were born in Haiti. Her father, Jocelyn McCalla, was the Executive Director of the New York-based National Coalition for Haitian Rights. Her mother, Régine Dupuy, is the daughter of Ben Dupuy, who ran Haïti Progrès, a New York-based Haitian socialist newspaper published in Florida, Haiti, New York, and Quebec. 
As a teenager, Leyla relocated to Accra, Ghana for two years. Upon her return, she attended Smith College for a year before transferring to New York University, where she studied cello performance and chamber music. It was the move to New Orleans that signaled a journey of musical and cultural discovery for Leyla. "New Orleans always felt like home to me," she recalls. "The more I learned about the history of Louisiana, its ties to Haiti, and French speaking culture, the more sense of belonging I felt and continue to feel." Her critically acclaimed 2013 album Vari-Colored Songs is a tribute to Langston Hughes. Her most recent album, A Day For The Hunter, A Day For The Prey, features other Francophone artists, including Louis Michot of the Lost Bayou Ramblers.
Leyla will perform in-concert on January 24, 2018 in the Davenport Common Room at 248 York Street, New Haven. Doors open at 7:30 PM. Concert is free and open to the public! Please also join Leyla and a host of panelists for "French South of the Border," a colloquium on Friday the 26 of January at 4 PM in HGS room 211 (Hall of Graduate Studies, 320 York Street, New Haven). More information to follow. 
Wednesday, January 24, 2018 - 8:00pm
Davenport Common Room
248 York Street
New Haven
,
CT