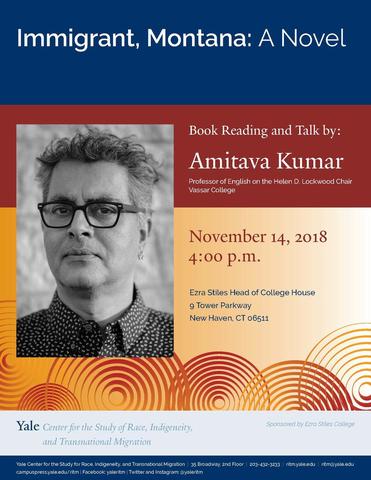 Join a book reading and book talk with author Amitava Kumar, Professor of English on the Helen D. Lockwood Chair at Vassar College.
Amitava Kumar is the author, most recently, of a novel Immigrant, Montana (2018, Knopf). An earlier version of the novel was recently published in India under the title The Lovers.
Kumar has written several works of literary non-fiction, including the prize-winning book A Foreigner Carrying in the Crook of His Arm a Tiny Bomb, described by the New York Times as a "perceptive and soulful" meditation on "the cultural and human repercussions" of the global war on terror. His other titles include Passport Photos, Bombay-London-New York, Husband of a Fanatic, A Matter of Rats: A Short Biography of Patna, and Lunch with a Bigot: The Writer in the World. Kumar's first novel, Home Products, was short-listed for India's premier literary award and republished in the US under the title Nobody Does the Right Thing. His writings have appeared in Harper's Magazine, The Nation, The New York Times, The New Yorker.com, Bookforum, Kenyon Review, The Chronicle of Higher Education, Critical Inquiry, Boston Review, Caravan, The Indian Express, The New Statesman, American Prospect, and numerous other venues. "Pyre," an essay first published in Granta, was chosen by Jonathan Franzen for The Best American Essays 2016. Kumar serves on the editorial board of several publications and is the script-writer and narrator of two documentary films: "Pure Chutney" (1997) and "Dirty Laundry" (2005). Professor Kumar teaches classes that mainly deal with: reportage; the essay-form, both in prose and film; cities; literatures describing the global movement of goods and people; war; memory-work.
Wednesday, November 14, 2018 -

4:00pm

to

5:30pm
Ezra Stiles College (ES), Head of College House
9 Tower Parkway
New Haven
,
CT
06511