Kris Klein Hernández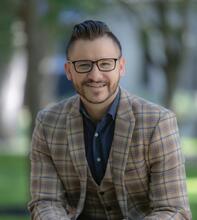 Kris Klein Hernández is Postdoctoral and Faculty Fellow at Yale's Center for the Study of Race, Indigeneity, and Transnational Migration (RITM), and Lecturer in Ethnicity, Race, & Migration (ERM).  His scholarship, which explores comparative racialization within the nineteenth-century American Southwest, is situated at the nexus of Latinx Studies and Borderlands History.  Klein Hernández teaches courses on nineteenth and twentieth-century Latinx history; U.S. imperialism and empire; race and gender from the early republic to World War I; and the history of the military.
He is currently working on a book project based upon his dissertation, "Militarizing the Mexican Border: A Study of U.S. Army Forts as Contact Zones."  It examines how racial anxieties emanating from military bases and its officers affected ethnic Mexicans, freed African Americans, and Native peoples residing within their orbits, causing cultural and material change through Texas, the New Mexico Territory, and Mexico.  Through an analysis of writings (travel literature, diaries, letters, publications) that army personnel produced while in federal forts, it shows how early militarization was shaped through ethnological knowledge and the comparative racialization of border communities.
Klein Hernández's research has been supported by the Ford Foundation, the Woodrow Wilson National Fellowship Foundation, the Social Science Research Council, the Organization of American Historians, the Institute for Recruitment of Teachers, the Mellon Mays Undergraduate Fellowship, and a Predoctoral Fellowship in History at Bowdoin College.  Klein Hernández received his PhD in American Culture from the University of Michigan, a MA in History from the University of Texas, El Paso, and his A.B. in Latin American Studies cum laude and Spanish from Bowdoin College.